2.7k in 14:46
i decided to switch up my route. since my goal is to run a 5k in under 30 minutes by the end of the month, i planned a 5k route through the nearby park. with every run from this point forward, my goal is to run as long as possible. today's goal was to hit the 3k mark at least. everything else would be a cherry on top. however, there's good and bad news about today's run.
the bad news is that i found out that i followed my 5k route incorrectly. when i arrived at what i thought to be the 3k mark, i looked at my stats in slight disappointment. i took a wrong turn and cut quite a few meters off my planned distance. i made the same mistake two days ago where i only hit 2.4k but didn't think much of it because i wasn't in the best physical shape anyway. but at least i should be able to correctly follow my actual route next time.
the good news is that my pace sat at 5:28 per km. this is on par with my (imo) exceptional 3k pace from last week. and this is proof that i can indeed hit that pace consistently if i'm in the right shape. i didn't even feel like i was doing particularly well. my legs were already complaining a fair bit after the 2k mark and plenty of headwind didn't really help me either. but when i looked at my running speed graph, i noticed i was getting faster over time. i can only take this as an indication that i was feeling mostly comfortable while i ran and that i could've probably hit the 3k mark for real if i wanted to. so even though there's two sides to today's run, i would still consider it a success.
after my run i met with some of my coworkers, and tonight's dinner was a primary example of why i love having internationals at my workplace. we went to a persian restaurant, which came to be because one of my coworkers is iranian. since the menu was mostly littered with meat options, i got them to ask if they also have any vegetarian options. i ended up with what's a "secret menu item" that i would've never been able to figure out on my own.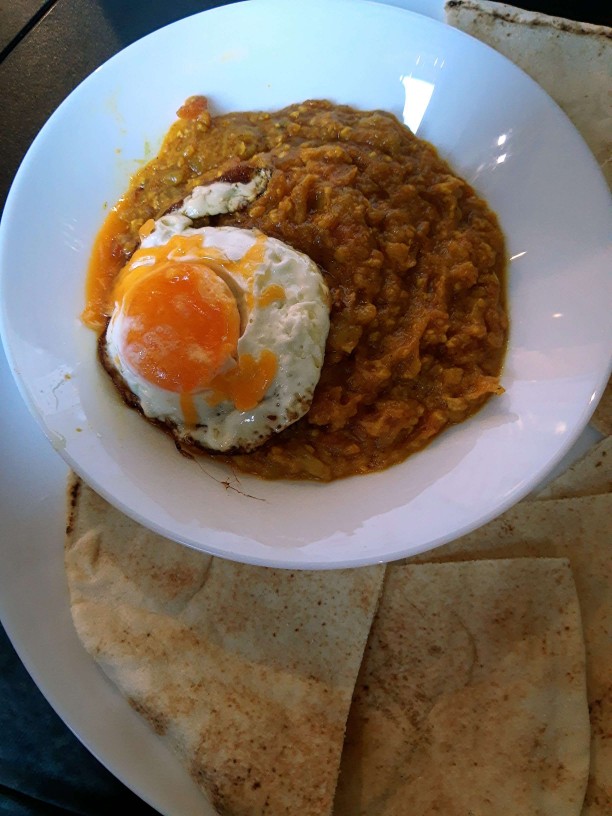 this is mirza ghasemi. from what i understood, they put an eggplant on a grill and let the outer skin char. they then shave the skin off and puree the eggplant mush inside. they add turmeric, butter, some other spices and heaps of garlic. the resulting dish is served with nan (it's "naan" as most will know it, but the persian romanization is apparently written with a single "a") or rice. rarely have i ever tasted something so rich and smoky in flavor. even hours after i finished it, the taste still lingers in my mouth. and i would've never tried it if it weren't for my iranian coworker. apparently mirza ghasemi is a dish specific to northern iran, so it's not all that common in persian restaurants around the globe either. it's a dish that i just want to shove into people's faces. i want to make them smell it and say "go to that restaurant, they have it, you likely won't get it anywhere else unless you go to iran". so on top of a solid run, i finish today with a lot of gratefulness in my heart and belly.
mail: mybtm (at) proton (dot) me
coffee: ( ˘ ³˘)❤️☕️